Men's Embroidered Guayabera Poly-Cotton
Ratings Snapshot
Would recommend this product.
Item #2328
---
Reg Price:
$74.24
Our Price:
$51.97
Product Details
---

Men's Embroidered Guayabera Poly-Cotton
Embroidered Guayabera style – Unique front embroidered guayabera shirt style with the two front pockets, pin-tucks front and back and decoration all around including the side slit.
Front pin-tucks (alforzas) – Two rows of traditional guayabera pin-tucks.
Back pin-tucks (alforzas) – One centered wide row of traditional guayabera pin-tucks.
Pockets – Two bottom pockets.
Decorative buttons – Decorative guayabera style buttons one on each pocket, at the beginning and end of pin-tucks lines and on three on each of the side slits.
Side slit – Functional side slit, can be loosen up to have a bit more room on the front of the shirt.
Regular fit- Regular American sizing, regular fit.
Cuffed Sleeves.- Featuring cuffed sleeves.
Lightweight Fabric & Easy-care fabric – Lightweight cotton blend fabric for comfort in hot weather. Easy care fabric machine-wash, offers less wrinkles than linen.
TROPICAL SHIRT TRADITION COMFORT
Designed with a unique front decoration a shirt created with the tropical climate in mind, this shirts has now become a cultural representation of Cuba, Mexico and Most of Latin America.
Superior versatile design easy to wear style,  a vacation on a shirt historically adapted thru the years with an island, and resort relaxed look.
Crafted by expert hands Made in Mexico with pride.
 A GUAYABERA SHIRT THAT FITS YOU RIGHT!

Regular fitting done right
- Designed with a regular american sizing standard, this shirt will fit you!
Small batch production
– Produced in our small family factory in Mexico in small batches, we restocked these shirts every two weeks.
Hand made
– Each shirt is hand cut and hand sewn.
Dress up or down
– Wear it with slacks and dress shoes for a formal look, dress it down with jeans or even shorts for a tropical chic look.
THE REVIEWS ARE IN!

Lovely Shirts
– These shirts are lovely, well made and look great.
Easy Care
– Cotton Blend fabric for easy care minimal Ironing while still been true to the traditional guayabera style.
Excellent  Value
 – Very comfortable, looks great, excellent value.
Spot on sizing 
– Very good quality and sizing is spot on.
HOW TO USE THE EMBROIDERED GUAYABERA SHIRT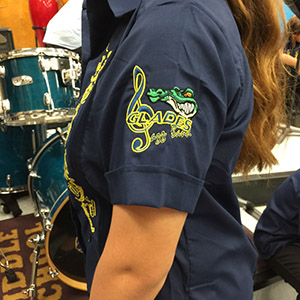 Visiting Miami or Cuba - Great shirt to throw in your bag for those hot Havana afternoons sipping mojitos!
Havana Party – Have you been invited to a Havana Nights party and are not sure of what to wear? Take this shirt with any fedora and you are in!
Corporate event or restaurant uniforms – Guayaberas open doors when doing business in Latin America. We can do custom logo embroidery.
Beach & destination weddings – Great alternative to a suit or more formal beach attire, there is a reason the guayaberas are also known as Mexican Weeding shirts.
YOU WILL GET NOTICE!
Warning!
– These shirts will draw many compliments and questions of where did you get that shirt? or is that a guyabara? Never the less you will wear it with pride, we will forgive you if you hare having issues with the pronunciation but please don't keep this secret for yourself let everyone know you got your traditional cotton blend guayabera from MyCubanStore.com
Most customers used this Guayabera Shirt at traveling to Cuba or the Caribbean, cruise attire, Traditional, Havana nights gala and Havana wear.
Usnaby shirt
Machine Washable
In the Heights Guayabera
MyCubanStore
Made in Mexico
In the Heights
Featured in Broadway
Usnaby guayabera
65% polyester / 35% cotton
Short Sleeve